BALLISTIC TESTING
This facility is currently being certified to the Canadian Standard (CGSB), U.S. NIJ, and ISO 9002.
BOSIK's ballistics facility is secured and safe storage is available for weapons and ammunition. The facility is suitable for handgun and rifle testing up to approximately 0.50 calibre.
The facility includes:
Body armour test mannequin (Goldorac 2)
Computerized Data Acquisition and reporting
Velocity measurement systems
Barrel conformal pressure transducers
Bullet trap
Ballistics Pendulum
Still and high speed cameras
Scales

Universal receiver and gun barrels
Equipment for manufacturing ballistics gelatin, test materials and fixtures
Numerous fixtures for holding test samples
Chamber for measuring pollutants (lead etc.)
Statistical database and analysis
Hand loading equipment
Ballistic Services:
Ammunition Evaluation:

Weapons Evaluation:

Design and Testing of Protective Equipment and Materials:

Pressure Tests
Velocity Measurement (VS / VR)
Accuracy Evaluation
FBI Protocol Testing
Penetration Measurements in Ballistics Gelatin
Clothing Penetration
Ammunition Loading
Bullet Weight Retention
Miscellaneous Material Testing

Hand Guns -- All Calibers
Rifles Up to 7.62 mm
Ballistic Fragment Simulators
3 - Barrel Gun

Other Services:

Contaminants Measurement
Spall Determination
Special Fixture
Preparation of Test Materials
Energy Measurement

Body Armour
Helmets
Glass
Bullet Proof Enclosure
Bullet Proof Materials
Turbine Blades
Vehicle Armoury
Materials Q / A Testing
Testing Materials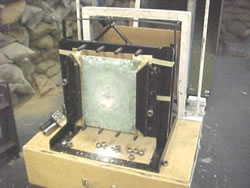 Ballistics Gelatin
FBI Protocol test materials including; light and heavy clothing, steel sheets, wall board, plywood and automobile glass
Walls: cement, steel reinforced, and brick
Fuel Containers: gasoline and propane
Typical Commercial aircraft cabin interior, skin and cabin window
Road surfaces: paved, crushed stone
For an Adobe Portable Document Format (PDF) download of Ballistic Testing, click here.
If you require the free Adobe Acrobat Reader software to access the above PDF, click here.